Recent News & Developments
View Our Progress
Camera 1 Live Feed
Camera 2 Live Feed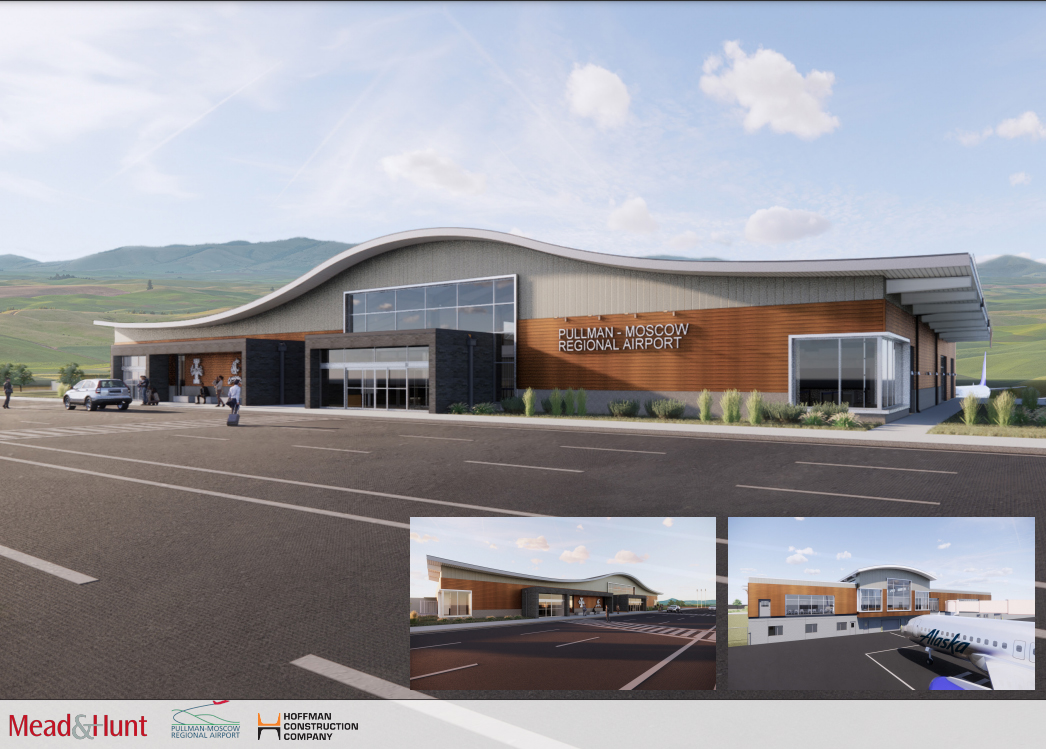 Pullman-Moscow Regional Airport – New Passenger Terminal Taking Flight
A big thank you to everyone who attended our Groundbreaking ceremony.
---
---
Check-In, Screening, and Boarding
Don't miss your flight! It is your responsibility to get through Security and to the Gate on time.
90 – minutes prior – Arrive at Airport; check-in counter opens; check your luggage; get your Boarding Pass; proceed through security (have your boarding pass and photo ID ready)
40 – minutes prior – Check-in counter closes; baggage check closes; proceed through Security (have your boarding pass and photo ID ready)
30 – minutes prior – Be through Security and in Boarding Gate area
12 – minutes prior – Boarding Gate closes
You may also check in and print your boarding pass online 1 to 24 hours prior to your scheduled departure.
If you have missed your flight and need to re-book, please call Alaska Airlines at 1-800.alaskair (1-800-252-7522)
Due to TSA personnel policy, the screening checkpoint closes at 10:30 PM. We recommend any traveler with a delayed flight be through security by 10:15 PM
---
All parking spaces are $6 per day. This includes gravel lots and ADA spaces. Pay for parking when you arrive using the parking kiosk inside the terminal building. When entering the terminal building the kiosk is located on the right-hand side past the men's restroom. The kiosk will ask for your stall number and the number of days you intend to park. If you do not know or see a stall number use stall number 500 and place the receipt face-up on your dash. The kiosk accepts debit/credit cards and exact cash – the kiosk will not give change back.
---
Parking Tips for the Best Travel Experience
Save hauling your luggage back and forth to the terminal by leaving it in your car while you pre-pay for parking. When you return to your car to place your parking receipt on your dash, grab your luggage. This is also a good time to grab a luggage cart, from inside the terminal vestibule.
---
---
---
Full TSA PreCheck Lane Now Available
As of February 13, 2020, PUW has full TSA PreCheck abilities. What does this mean for travelers going through security at PUW? It means travelers with TSA PreCheck will see TSA PreCheck on their boarding pass. PreCheck passengers will line up in a separate line, located to the right of our regular security line. PreCheck passengers are blended into the front of the regular security line. And are now able to leave electronics and liquids in their bag, and of course, you are able to keep your shoes, belts and light jackets on. So there is no need to use a bin. Just put your bags right on the rollers. Keep in mind TSAPreCheck passengers are still limited to the 3.4 ounces (100 ml) rule and food may require additional screening.
---
Important Security Information
Know the latest Security requirements, visit tsa.gov
Have a question about an upcoming flight? Ask TSA on Facebook Messenger! They are available daily from 9 a.m. to 7 p.m. EST.
OLDER POSTS